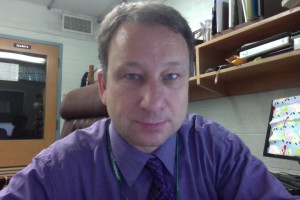 Currently, I work as the Director of Technology for Dearborn Public Schools. I have a long interest in teaching, learning and technology. Before becoming the Director of Technology, I served as a middle school principal at Woodworth Middle School. This is a large, diverse school of wonderful students, teachers, parents and community. Before that, I was a classroom teacher. I had the wonderful joy of teaching Language Arts, Social Studies and Technology.
I've also had the pleasure of working with a ATEP group in implementing a National Science Foundation grant. The grant focused on implementing courses that provided a bridge between high school and community college programs.
That being said, all opinions and thoughts expressed on this blog are entirely my own. I sometimes play "devil's advocate" on a wide variety of issues.
Awards:
Michigan Association of Middle School Educators (MAMSE). Administrator of the Year. (2011)

ADSA Administrator of the Year (2010)
Projects:
Middle School Matters
Middle School Matters is a joint project with Mr. Shawn McGirr. This is a weekly (well, usually weekly) podcast that focuses on Middle School. The topics include technology, advisory ideas, strategies and web resource. The podcast began in 2007.
Master
Moodle
Master Moodle is a new site that is under development. These will be illustrated guides on using Moodle for teachers. This is a joint project with Mr. Chris Kenniburg.
MAMSE
Michigan Association of Middle School Educators. This is a oldest statewide middle level focused organization. I've designed and maintain the web site.
ATEP
The Articulated Technological Education Pathways (ATEP) project develops three semester-long courses for high school students that provide a bridge from high school technical programs to community college programs in technician education. I've assisted in developing and implementing Moodle for the project. I also completed training for the implementation leads. Learn more.